The Community Family Awarded $200,000 Grant from the Cummings Foundation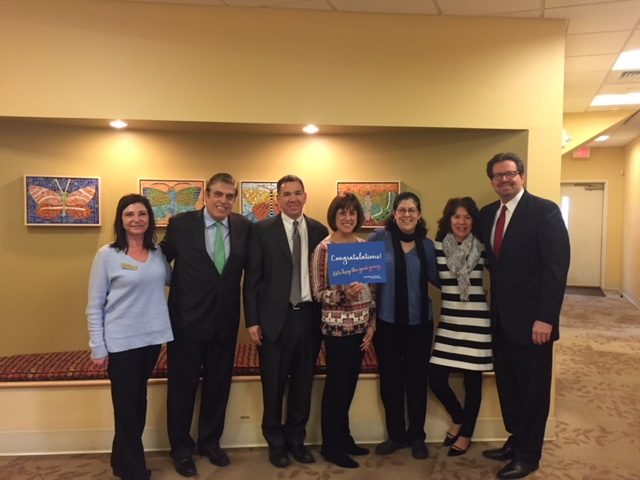 The Community Family is pleased to announce it is the recipient of a $200,000 Sustaining Grant from the Cummings Foundation. The grant will be over 10 years with annual installments of $20,000 and the funding will be used to sustain and enhance our Activities Programs, which are an essential component of our participants' days. Programs include music, exercise and art therapy classes, entertainers and other special events, and an interactive computer technology among others. Together, these activities provide meaning, self-expression and purpose for an often vulnerable group.
The Community Family is one of 33 local nonprofits awarded a total of $10 million from Cummings Foundation through the new Sustaining Grants program. Sustaining Grants builds on the Cummings Foundation's $100K for 100 program that began in 2012 and annually awards multi-year grants of $100,000 each to 100 non-profits that are based in and primarily serve Essex, Middlesex, and Suffolk counties. The Community Family was a 2013 $100K for 100 grant recipient and received our final grant disbursement in 2017, giving us automatic consideration for the new funding initiative in 2018.
We are thrilled to be the recipient of this most meaningful grant and wish to express our heartfelt thanks to the extraordinarily philanthropic Cummings Foundation, its founders, Bill and Joyce Cummings, and the volunteer representatives of the Sustaining Grant program who made on-site visits to our centers. We look forward to sharing how this grant enriches the days and lives of the thousands of people we serve over the next decade!
Photo: Cummings Foundation Sustaining Grants program volunteer representatives Bob Keefe and Marie Lingblom visit the Everett center to deliver the good news of the award to TCF. From left to right, Marion Dunn, Program Director of the Everett Center, Bob Keefe of the Cummings Foundation, David Corbett, TCF Development Specialist, Anne Marchetta, TCF Executive Director, Marie Lingblom, Cummings Foundation representative, Sherri McCormack, TCF Board member and Joe Keohane, TCF Board President.