TCF Hosts Thank you Reception for Jingle Bell Festival Volunteers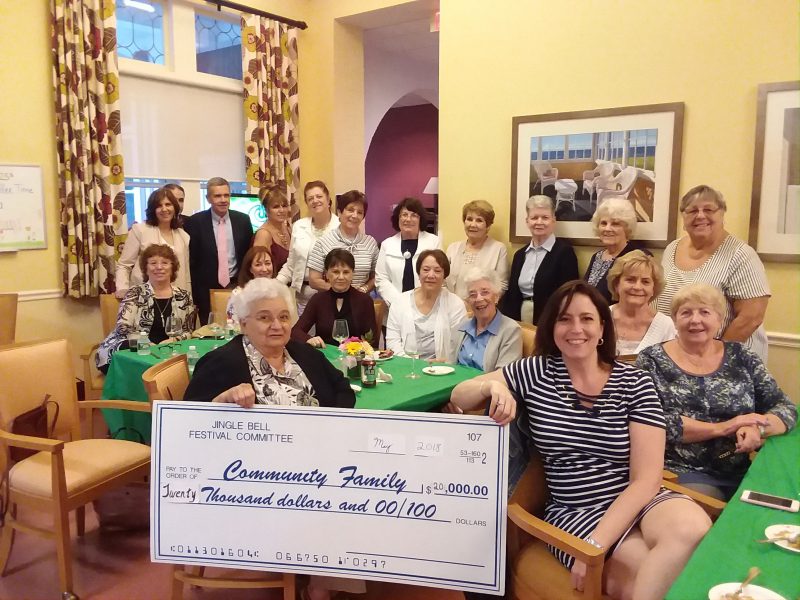 The Community Family hosted a Thank You Reception on May 24th for the volunteers of the Medford Jingle Bell Festival. The 19th Annual Festival was held at Medford City Hall last December and was once again a huge success. The week-long event included tours of seasonally decorated Medford homes and a raffle of Christmas trees and other holiday items that are donated by local businesses, service organizations and families.
The Jingle Bell Festival has been run strictly by volunteers throughout its history, led by TCF Board member and Medford resident Judy Lonergan. She and a handful of other individuals have been involved with the Festival since it was started in 1999. In total, approximately 30 volunteers currently help make it a much-anticipated annual tradition in Medford.
At yesterday's reception, a check was presented for $20,000 to The Community Family (TCF). TCF has been the primary beneficiary of Jingle Bell Festival proceeds since its inception, having received in total more than $280,000. The funds have been vital in keeping TCF's memory loss care center updated and state-of the-art. This year's proceeds have already been earmarked for a complete set of new chairs as well as renovations to the small nursing office. The reception also included a dinner, shared conversations and some initial discussion about making plans for Festival #20 this December. Stay tuned for more information on the big anniversary year!