Greater Lowell Community Foundation Presents Check to Lowell Center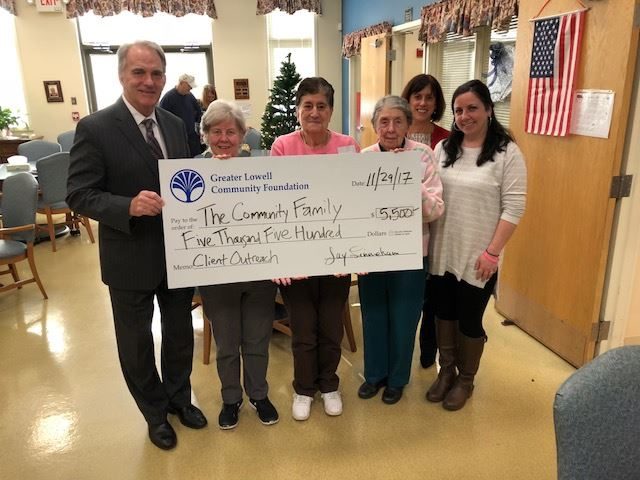 Greater Lowell Community Foundation President & CEO Jim Linnehan presented a check for $5,500 to The Community Family's Lowell center for the organization's Client Outreach Fund. The Client Outreach Fund provides financial assistance to individuals in need of our adult day health services but are unable to pay for the cost of care. The Fund is critical because it is used in emergency-type situations that are due largely to extenuating circumstances.
While many of our participants qualify for subsidized healthcare and others are able to pay for their healthcare privately, there is a segment of the population we serve that falls in between these two ends of the financial spectrum. It is often these individuals who are beneficiaries of the Client Outreach Fund, despite adult day health being the most affordable long-term care option available.
We are grateful to the Greater Lowell Community Foundation for their generosity to The Community Family, both now and in the past, and for the many good works they do in the Merrimack Valley.
Pictured from left to right: Jim Linnehan, Lowell center participants Irene, Margaret and Mary, TCF Executive Director Anne Marchetta and Lowell Center Director Heather Betty.